Would You Pay For Email?
Making my way through the ol' inbox is officially my part-time job. It's not that I have one single inbox to brush through, but a monolithic cauldron combining eight inboxes.
Maybe you can relate. There's my personal email. My freelance work email. My school email. And five others that my clients want to use to communicate with me.
Email accounts are tossed around as frequently as talking about the weather, and like a banal conversation, there's no actual cost to it. It's not like I paid money for any accounts I've been given or incurred some fee when sending messages over the wire.
But as for my personal and freelance email? I indeed pay for those in the form of an annual fee to Hover so I can hook my custom domain up to their servers. Personal branding, FTW! Sure, I could have hooked up to any number of free email platforms. I'm pretty sure it would have been a lot less of a headache to set things up in Gmail with a few clicks than it would have been to figure out all the technical ins and outs of DNS settings. Not only did I pay extra in the form of time, but after breaking something somewhere down the line, my address was dormant, and I lost a week's worth of opportunity as well.
Minor financial and emotional costs aside, I'm happy with my rig.
Someone recently asked why I would pay anything when I already have a Google account with access to Gmail, an iCloud account with a complimentary inbox, and an ancient Hotmail account that… well, it's not even Hotmail anymore. However, I can still log into it over at Outlook.com if necessary.
It's something I don't like saying, but I agree with: You are the product for free services. I'm no legal expert or self-proclaimed prophet in a tinfoil hat. I believe I'm paying some cost in privacy with Hover if I squint hard enough, but not to the extent that I think I'd be paying with an email account that someone handed me. There's nothing in Hover's privacy policies or terms of service that look like this: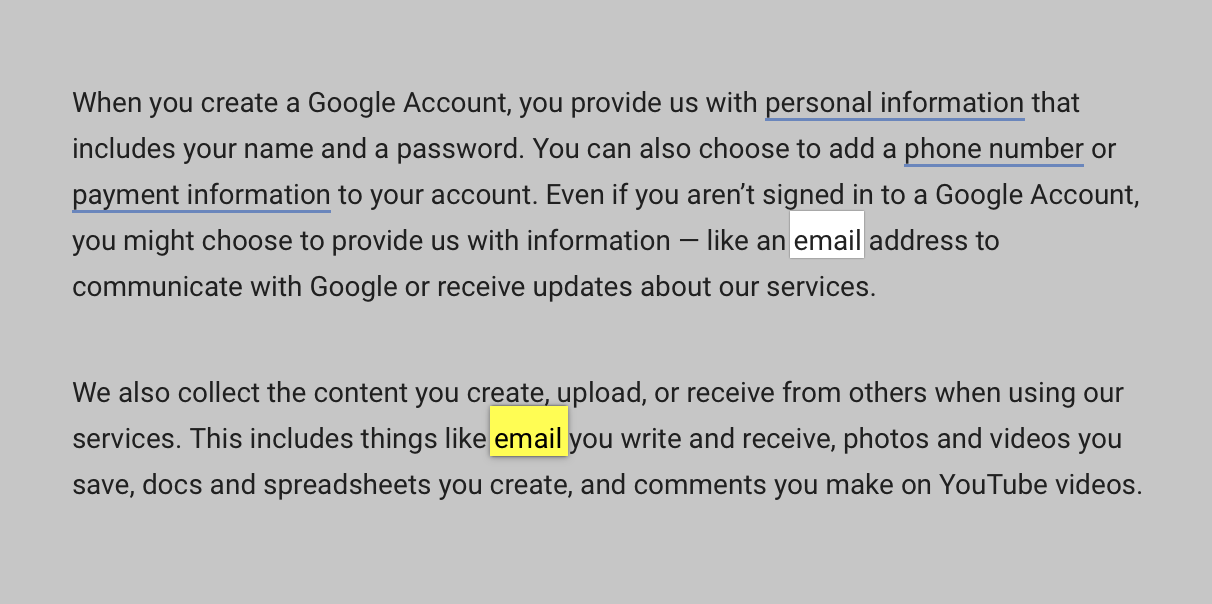 …which can be used like this:
Privacy happens to be something I prioritize. I may not always be great at protecting it, but I try to be intentional, and email is one of those cases. There's always a personal email server, but lordy, that would be even more time and emotional costs than the little I invested in Hover. I went to a liberal arts college, y'all, not some computer science academy.
That's me. You might love Gmail's reliability and frustration-free management enough to overlook this or that. It sure does have a lovely interface!