Goodbye, CSS-Tricks!
I woke up yesterday to the news that DigitalOcean has cut a bunch of jobs from the payroll. It sounds like a pretty big wave, and yes, my job was lopped off with it.
This is my first rodeo with sweeping layoffs… or even losing a job. I always expected I'd feel devastated if something like this were to ever happen, but I've gotta admit it's all good. Anyone who knows me well knows that I never have one job, but many eggs in a number of baskets. That might be influencing my feelings a wee smidge. I realize not everyone is in the same boat.
What's actually weighing heaviest in my mind is CSS-Tricks. It's the only reason I was at DigitalOcean in the first place. I'm sad that I'll no longer be editing or writing for the site, and I'm still processing that I didn't realize yesterday would be my last day with it. I no longer hold the keys to the castle and my digital fingerprints are being dusted off the door handles as I type.
Alas, things change. Goodbye, website. Goodbye, all you dang talented writers who let me mangle your words. Goodbye, all you typos from umpteen years ago that I can't unsee and wake me up at 3 a.m. in a cold sweat.
I'm not crying. You're crying.
But seriously, the pleasure of working with CSS-Tricks has been all mine. I still can't believe I was ever paid to read drafts and diddle around with code… for eight years!
And, hey, if you're still with me and reading this, there's a small ocean of talented technical writers, editors, content strategists, and developers who are now looking for work. You can't do much better than to pluck someone from that bunch if you're in a hiring position.
(What am I up to? Of course, thanks for asking! I don't know. I'm already working on my Master's Degree in Education. I'm doing that to support the teaching I do — front-end development and WordPress development — at Long Beach City College and Front Range Community College. I still freelance a bit, so I guess I could bump that up a bit more if, perhaps, you want to reach out and work together. Let's make something!)
Oh, and speaking of hiring, it appears DigitalOcean is still in full hiring mode if you're in the market for work. Well, according to the signature in this auto-reply.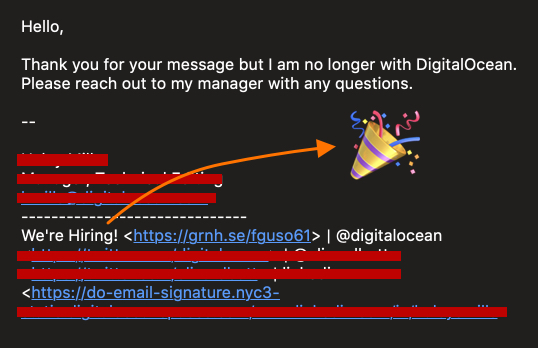 Long live CSS-Tricks! 🤞